The Story: Seeds of Change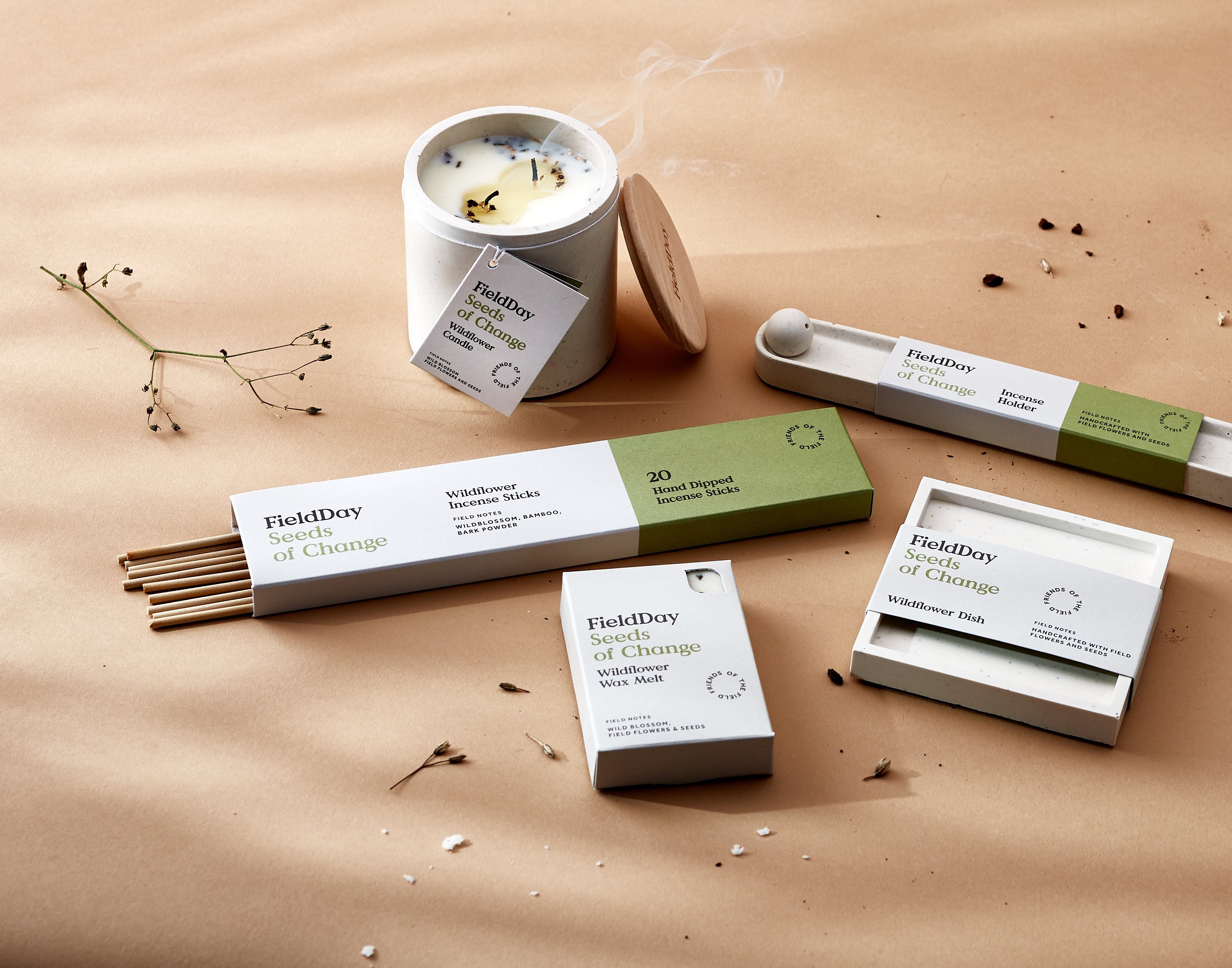 The Inspiration
With all that's going on in the world, there's never been a more important time to stop, take stock, and be thankful for what we have... and to make sure that we're adding good to the world, not doing it harm.
This is where the inspiration for Seeds of Change came from. During lockdown 2020 our founder, Alix, wanted to come up with a purpose for the wax waste from our factory. She developed mini wax melts, made with wax waste and sprinkled with wildflowers and seeds from our fields. These melts are lovely because no two are ever the same as it's always a cocktail of fragrances from whatever candles were made that day. These melts are added to every online order as a free gift! After this project and the overwhelming positive feedback, Alix was inspired to make a full zero waste wildflower collection based on the ethos of these melts.
The Development
When Alix began developing this collection she wanted to create her own vessels that would be eco-friendly. After much research and testing, she decided to use Jesmonite, a water based resin that is both eco-friendly and non-toxic. She spent hundreds of hours in the workshop, designing the Wildflower Candle vessel, Incense Holder (incense is brand new to FD!) and the Wildflower Dish. The hours weren't just spent pouring and perfecting the Jesmonite, but foraging the wildflower seeds, developing the fragrance, dipping and drying raw bamboo incense sticks, choosing and testing cotton wicks, and so much more. Seeds of Change has been a labour of love, with a finished product (multiple!) that we are really proud of.
The Wildflowers and Seeds
Each product in this collection has wildflowers and seeds in it that have been hand foraged from the big green fields surrounding FieldDay HQ right in the middle of the country, County Down. No two products are ever the same, as different seeds are picked each day, and as seasons change, so do wildflowers!
The Fragrance
The fragrance for the collection was inspired by a plant in Alix's mum's garden- Mock Orange Blossom (or she called it Bride's Blossom!). In the fragrance are essential oils of orange, petigrain, rose, neroli, ylang, and grapefruit- making it smell like a big bunch of, well, wildflowers! We think it's really beautiful.
This collection has been designed to be recycled or repurposed (the candle vessel makes a lovely plant pot) with zero waste. At FieldDay we want to do our part in adding good to our world, rather than harming it.
It's a small change, but we're on a mission to make a positive impact on our environment and community.
So won't you join us? Let's plant the seeds of change together.