Reflections on 20 Years of FieldDay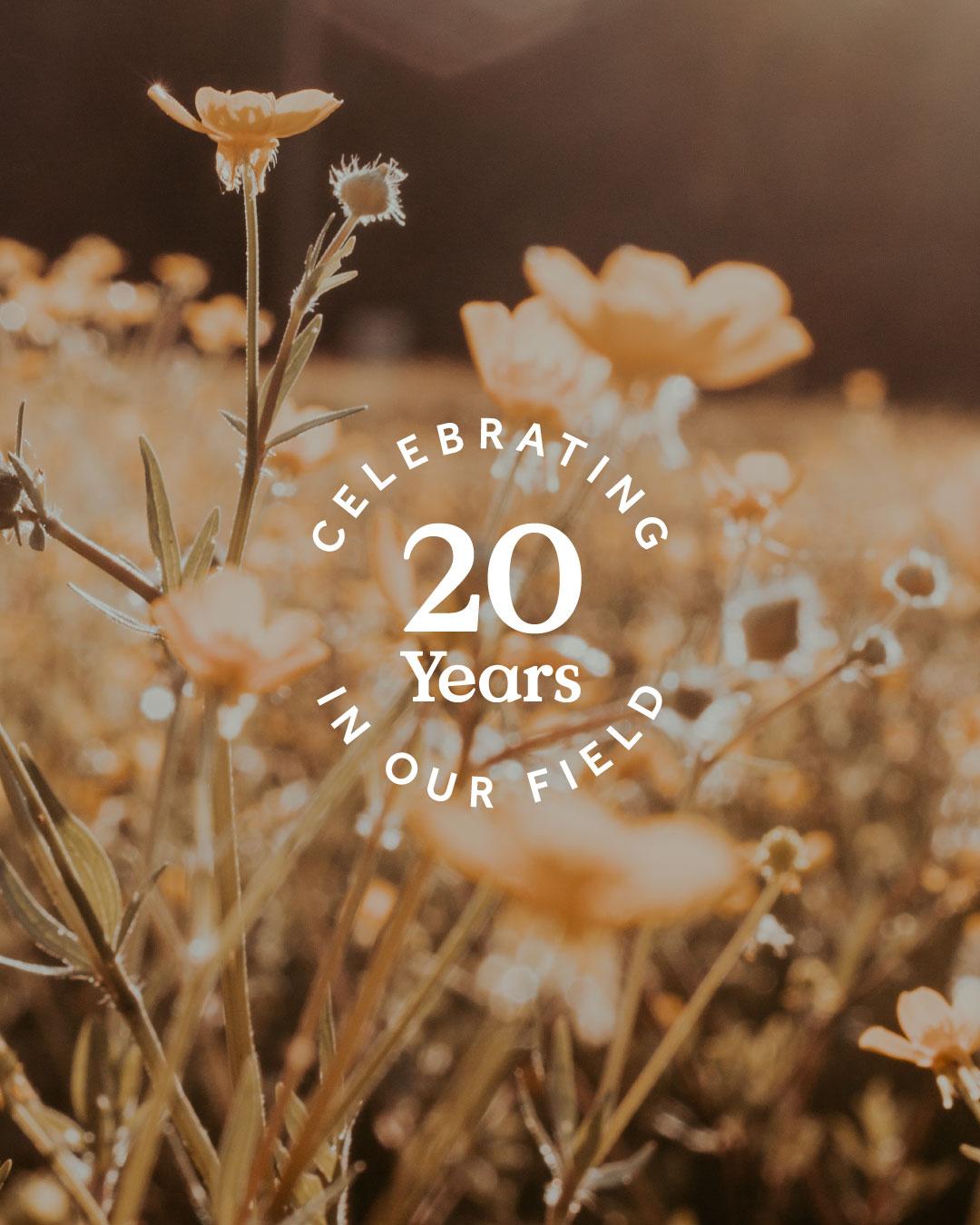 It's hard to believe that FieldDay is 20 years old! When I started out, my mission was to capture and bottle the scents of the Irish countryside. All these years later, our brand DNA hasn't changed, it's what we're still doing, in fact more so than ever. Back then, it was a very different marketplace back then. The scented soap and candle industry had yet to explode, and there was very little competition. How different it is now!
Where it all started…
I taught myself the art of soap making at Mum's kitchen table. She was absolutely not impressed and kept telling me to get a 'proper job'.  I ignored her and busied myself making batch after batch of soap until I perfected my recipe. The original collection included Irish Linen, Irish Rose, Irish Field and a trio of soaps called Bread, Butter and Jam!
On 8th September 2002, armed with a basket of soaps, I called at the Irish Linen Centre in Lisburn. I didn't have an appointment, price list or catalogue. I can't believe how naive i was!  I just went in and asked for the buyer; a lady called Jo. She placed an order for 6 of each soap and 12 of the Irish Linen soap. I was thrilled.
Feeling confident, I decided to try my luck with 'Gowdy's', a local gift shop in Hillsborough that sold an eclectic mix of antiques, art and gifts. I introduced myself to the owner, Patrick Gowdy with my basket of soaps. He promptly said "We don't sell smelly stuff here!" I asked if I could leave the soaps on a shelf for 2 weeks, and I'd take them back if they didn't sell. Sale or return! He reluctantly agreed. I called back 2 weeks later and couldn't see any on the shelf. I thought they'd been moved somewhere. Turns out, he'd sold the lot. I'm not sure who was more shocked – him or me!  He placed another order. I was officially in business. Sadly, Patrick Gowdy died shortly after, and his amazing emporium closed not long after.
In January 2002, I went to my first ever trade fair- Showcase @ RDS, Dublin. I was so nervous and didn't sleep a wink the night before. But it was a great show, and I picked up loads of orders, including an order for Joyces in Connemara, who are still a customer today. I was delighted as it meant I could give up my boring day job.
In 2003 I rented my first warehouse. In reality, it was a tiny ramshackle unit on a farm with an outside toilet!  From there, we continued to grow before moving to our current HQ near Carryduff in County Down. It's surrounded by loads of fields up a long lane. It's perfect for us, and we love it despite the awful WIFI!
From that first trade fair we grew steadily and organically over the years. Fifteen years ago, I took on my first employees; two local ladies; Marie and Kim. They're still with me; loyal and hardworking as ever. I'm proud to be an employer; it's a good feeling to know we can contribute to our economy in a meaningful way. My team are a fantastic bunch and I'm proud of the relationships they've built with retailers, buyers and customers. I don't know where I'd be without these special people creating a network around the business, holding it all together.
Where we've been...
Running FieldDay for the past 20 years, I've had more than a few fails. I've designed product that hasn't sold. I've taken on staff that haven't worked out. I've thought that I knew better than professionals. I've made really bad decisions and learnt expensive lessons the hard way. Plenty of sleepless nights and stress. What would I do differently? It's hard to say because in business you take risks all the time; some work and some don't. I try to see failures in the best possible way and believe they help hone our skills and intuition. In saying that, there's plenty of times I've not only made the same mistake twice, I've made it four or five times!
Throughout the years we've innovated and reinvented ourselves in a crowded competitive market. Although we continue to evolve our packaging and collections, the essence of FieldDay never changes. Seven years we ago we changed our brand name from 'Bog Standard' to FieldDay. Although we loved our Bog Standard days, we had out-grown the name and it was time for a change. It was risk but turned out a success and definitely the right thing to do for the long-term future of the brand.
The Covid pandemic was one of the most challenging times we've had in business. But like so many others, we survived it somehow and got through. Thank goodness for online shopping and our brilliant, loyal FieldDay fans.
Throughout the years we're lucky to have some had brilliant stockists. Some stores we've had from the early days like Urban Orchard in Holywood, County Down,which is still one of our top selling stores today. Bigger stores like Avoca, Kilkenny, Meadows and Byrne have been so important for our growth. It's a crowded and busy marketplace with multiple home fragrance brands to choose from, so I'm very grateful to these stores for choosing us and for their support and loyalty over the years.
FD at 20 Years...
I'm proud that FieldDay helps to fly the flag for Irish products around the world. We were so chuffed recently when The Dead Rabbit in New York began to use our Hand Washes, Candles and Diffusers in their world-famous NY pub. The owner Jack McGarry is from Belfast and is keen to showcase Irish makers.
It's still the biggest thrill to get orders. I honestly never lose the buzz and delight from someone choosing our products. I still want to do a happy dance when an internet order pings through. I love the thought of our products travelling round the world and people enjoying them. That's a huge compliment and something I don't ever take for granted.
We always wanted FieldDay to help raise awareness of Irish Wildlife and our countryside. In the early days we sponsored the Irish Peatland Conservation Charity. Our current charity partner is Ulster Wildlife, who do an amazing work conserving Irish wildlife and habitats.
I'm pleased that our collections are completely vegan and cruelty free. It's brilliant to see this become the industry standard, compared to 20 years ago when it was a challenge to get vegan or sustainable products or packaging.
I've no doubt that the months ahead will be challenging with the cost of living crisis, and the rising costs we face as a business. Retail is changing rapidly, so who knows what the years ahead will bring. But we've come a long way since our early days starting out at mum's kitchen table making soap. It's hard to believe we've been growing for 20 years! Our new Seeds Of Change Collection celebrates this milestone. It's an ode to sustainability and our customers.
So, whilst we're older and hopefully wiser, we're definitely more passionate than ever about our land and preserving it for us all. Let's plant the Seeds of Change together. I'll drink to that!
Alix
x