There's no place like it!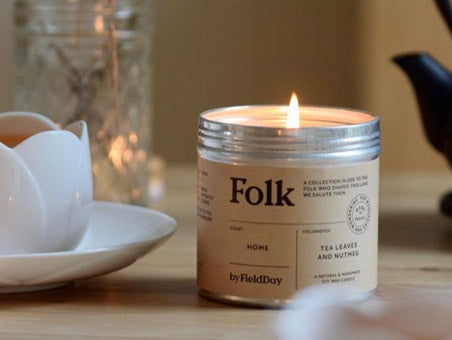 Just like Dorothy in the Wizard Of Oz said, there's no place like Home.
We've all spent so much more time at home this last eighteen months haven't we? It feels more important than ever, and for most of us, home is where the heart is. Somewhere to feel safe from all the craziness in the world - wherever that may be!
It could be in your usual spot in the cafe down the road, or that one friend who always has the kettle on. There's just nothing like a cuppa to feel homely. Although, here at HQ, our 10.30am tea breaks are incomplete without some chocolate (preferably Lindor -  if you follow us on IG, you'll know that's the preference here at FD!)
Follow along with all our Candle craic at HQ on our Insta - @fielddayire
So when I created our Folk Tin range, we used the scent of tea leaves to capture the fragrance for our Home candle; as an Irish brand, tea is part of our DNA!
The bergamot and nutmeg combo is a refreshing yet slightly spicy scent to fill your home... or wherever you wander.
But as always, dont just take our word for it! 
Home Folk Tin Candle has a refreshing scent of tea leaves, I can even smell it when the candle is not lit. I love the idea of having the lid and being able to take it around with me when travelling.

- Marta
Wishing you a cosy and happy home wherever you wander. 
Team FieldDay
x